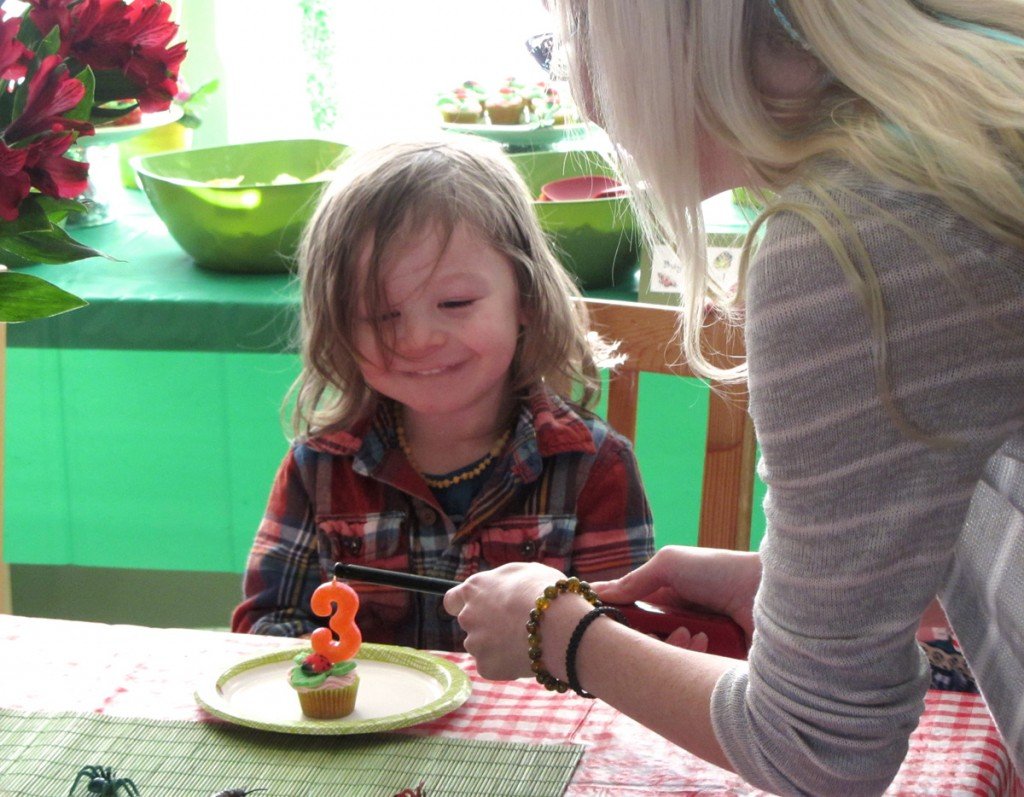 Yesterday was Jackson's 3rd birthday party! It was so much fun now that he can understand what is going on.
Recently at our gingerbread house party, I found a random sour worm in our gum drop bag. Jax ate it and was in love. That combined for how much he (and I) enjoy his Bugs & Buttons/Bubbles/Numbers educational games inspired me to plan a bug-themed party.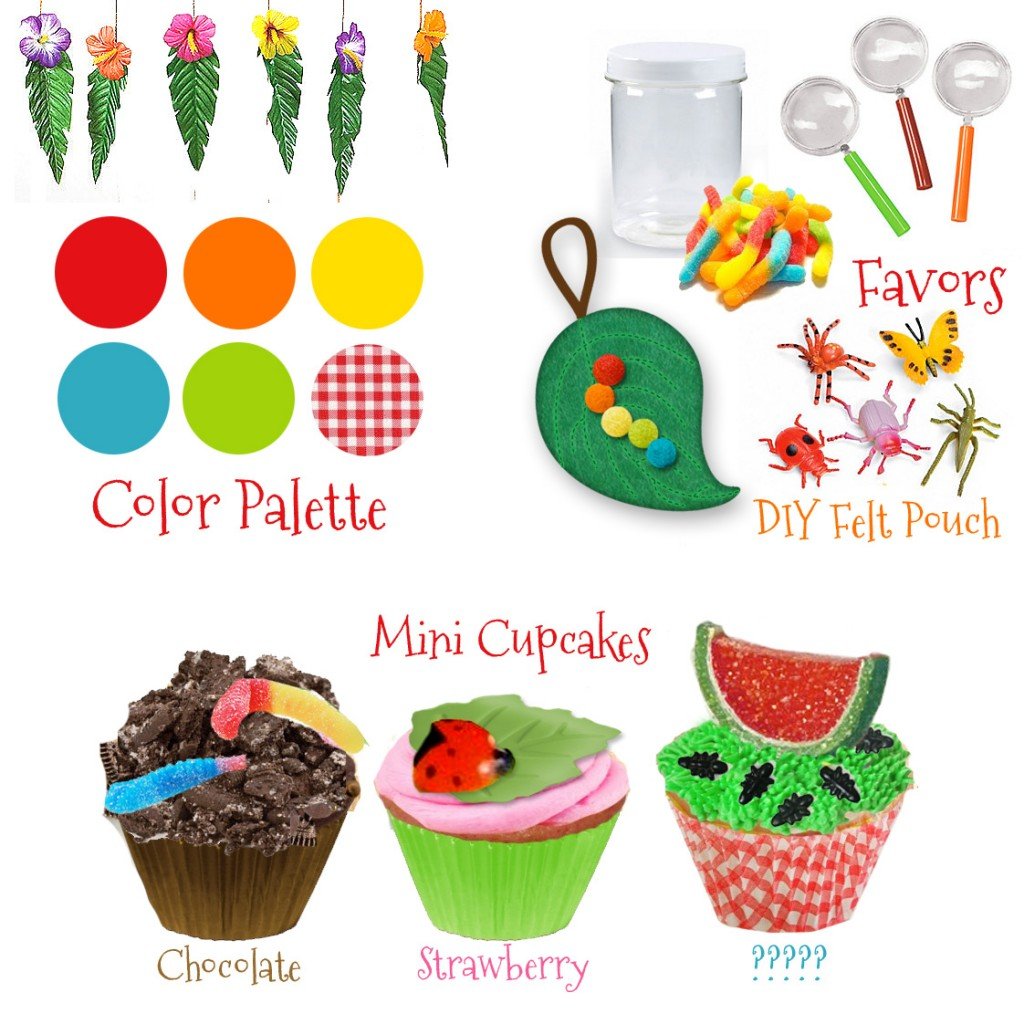 I started with an inspiration board in Photoshop. I chose a color scheme that was like a sunny outdoor picnic. I designed a DIY sewing project to give as one of the favors (a felt caterpillar pouch) and planned out 3 bug-themed mini cupcakes.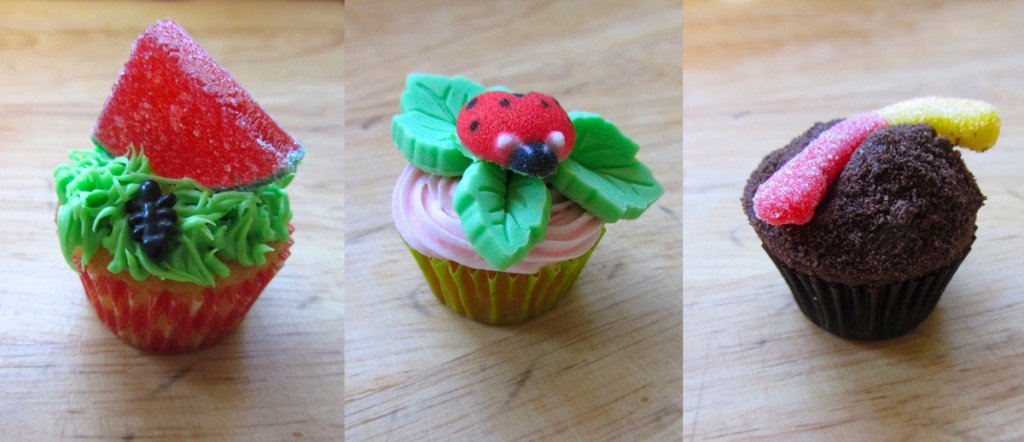 There was a lemon cupcake with lemon frosting (tinted green and piped with a grass tip), little black ant sprinkles
, and watermelon slice candies. I baked them in red gingham cupcake liners. (I had a custom listing set up on Etsy will my three liner choices.)
The ladybug cupcakes were strawberry, strawberry swirl icing and fondant leaves I cut out with a cutting and embossing set
. I added little pressed sugar ladybugs
. I baked them in lime green cupcake liners.
Our chocolate cupcakes were chocolate with fudge frosting, crushed Dark Chocolate Fudge Stripe cookies and sour worms
. They were baked in simple brown cupcake liners.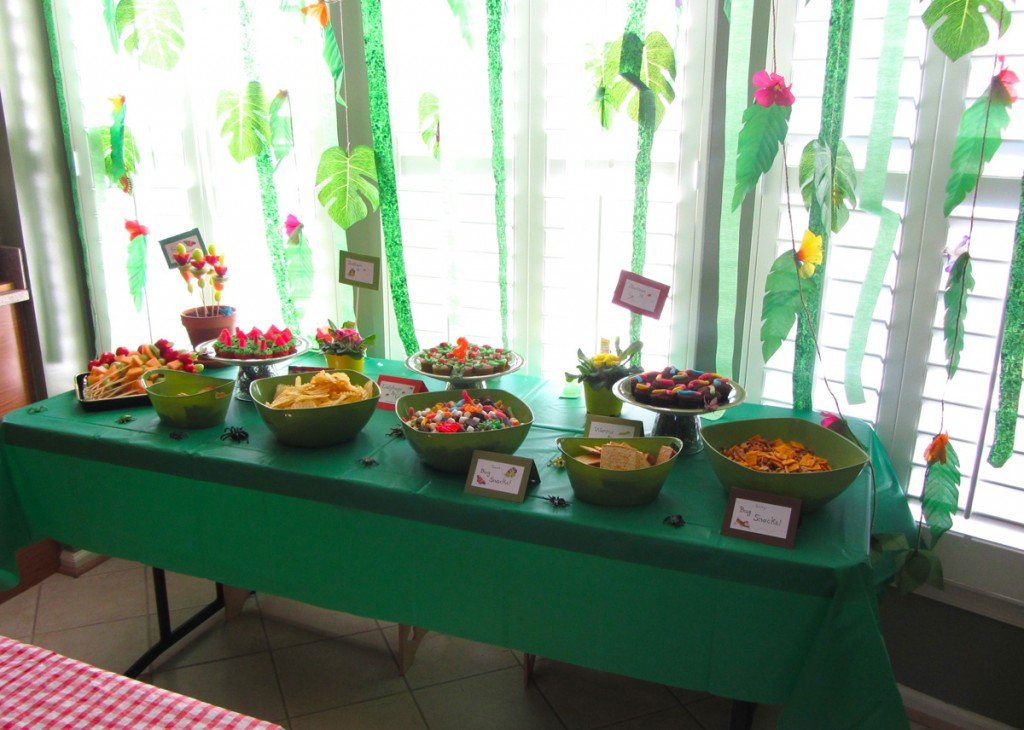 I tried to be very thrifty with the decor. We get beautiful light in the afternoons in our kitchen, so I planned a hanging jungle with sunlight pouring through. Thankfully, the sky cooperated! I hung two shades of green streamers, some faux leaves I hung from bakers twine, and a clearance luau door curtain I cut up into 6 strands. I added some fun plastic bugs to some of the leaves.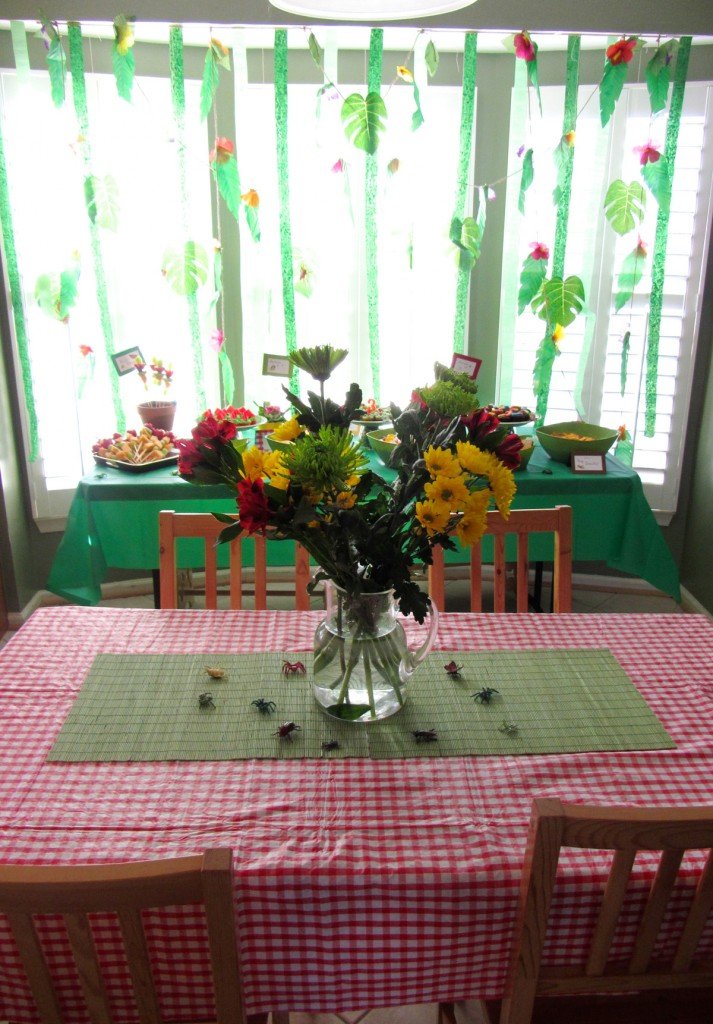 I set our party table up in front of the window. It was the first time I'd placed it there and it worked out so well! I used a simple green tablecloth under the food, because a pretty $5 gingham picnic tablecloth (Joann's Fabric Store) was already brightening to room on our kitchen table. My wonderful friend fulfilled my request of fresh flowers for the table. She went above and beyond! They were gorgeous, and I wouldn't have had the time of funds to get them myself.
I used our everyday green bamboo place mats as accents, and borrowed some live potted plants from the windowsill. Plastic bugs
were sprinkled all around. I served the food in green bowls from the dollar store and DIY platters made from dollar store plates and votives.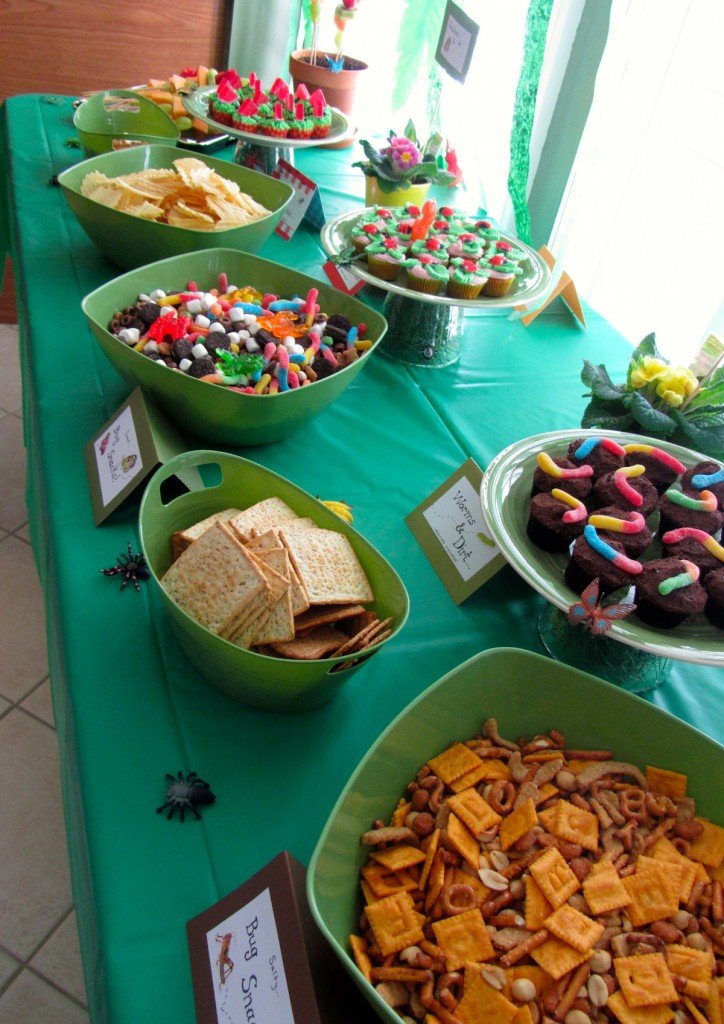 In addition to the three cupcake flavors, I had assorted snack foods. We had the classics: chips and dip, cheese and crackers, olives and fresh veggies. My same amazing friend copied my fruit flower prototype and made the beautiful fruit kabobs happen while I rushed to ice 80 cupcakes.
I made two snack mixes to save on serving bowls. The sweet mix: yogurt and chocolate raisins, yogurt and chocolate peanuts, s'mores Goldfish, mini Oreos, mini marshmallows, chocolate Cheerios, sour worms and gummy tarantulas. The salty mix was a snack mix base from Target, ABC pretzels and Scrabble Cheez-its. We had fruit/veggie juice boxes, plus sodas, lemonades and tea.
Jax had a blast playing with other kids! He doesn't get to often as he is at home with me. Regardless, he is very friendly and outgoing to all children. He is (almost always) great at sharing his toys and getting along. He was so into playing he barely paused to eat the food I set up for him before running back!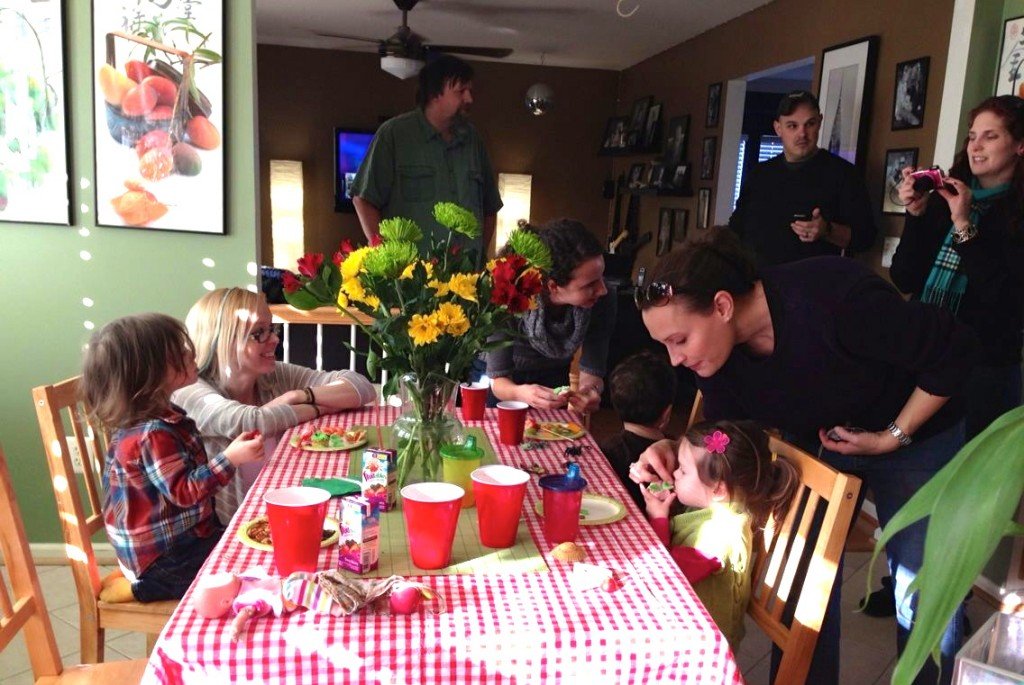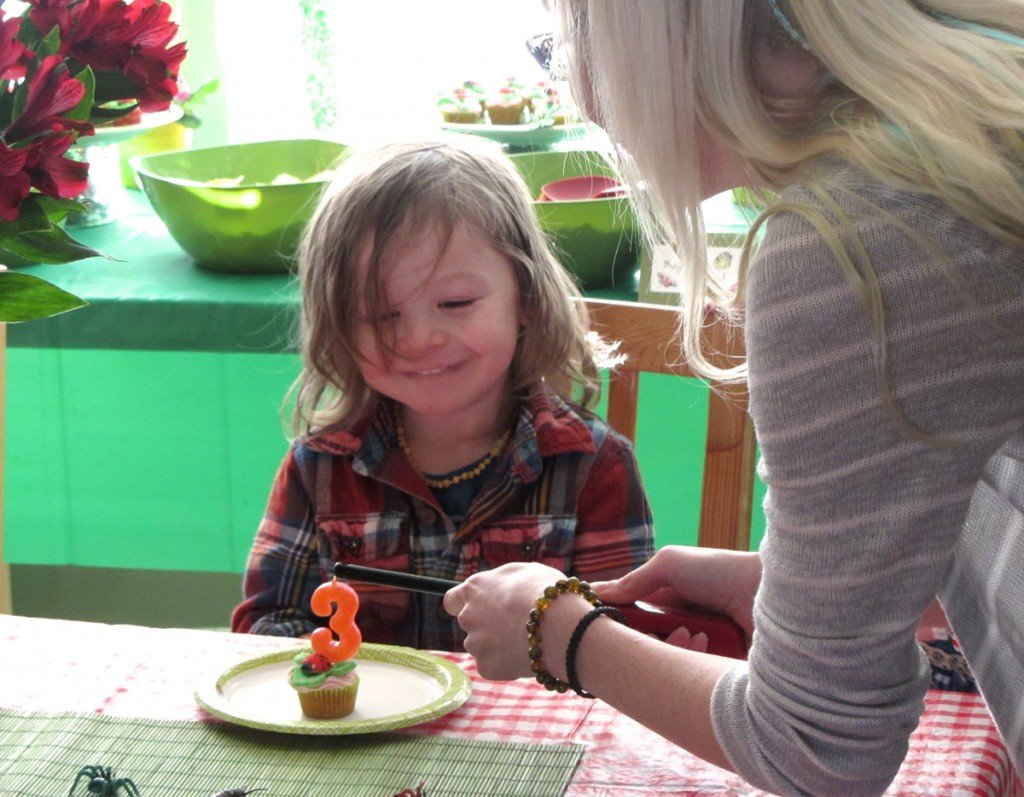 He was so anxious to blow out his candle that he blew it out the second I lit it! I had to re-light it and remind him to wait until we were done singing to him. He got so cute, covering his excited smile with nervous hands while we sang. It made my heart float!
Just like last year, he was more into the candies on the tops of the cupcakes than he was with the cupcakes themselves! Silly guy.
Everyone seemed to love the cupcakes which made me happy. Lots of love went into those little creations! Also made with love: the party favors! I had three separate sets of favors so guests could pick and choose what they wanted. There were my hand-sewn caterpillar pouches, traditional favor bags (with a dollar store solar dancing flower, bug stickers and a gummy spider) and "bug jars" with candy bugs.
Jax got some gifts – something he now understands and was thrilled to see. He still isn't the best and opening them, and would happily watch while other kids opened them for him. We encouraged him to do it himself.
The party was right around his nap time. I just planned for him not to nap. There really wasn't a better time for the party. He did very well, only showing his fatigue when he stubbed his toe and cried more than he would normally. A sweet toddler party guest offered to kiss his booboo!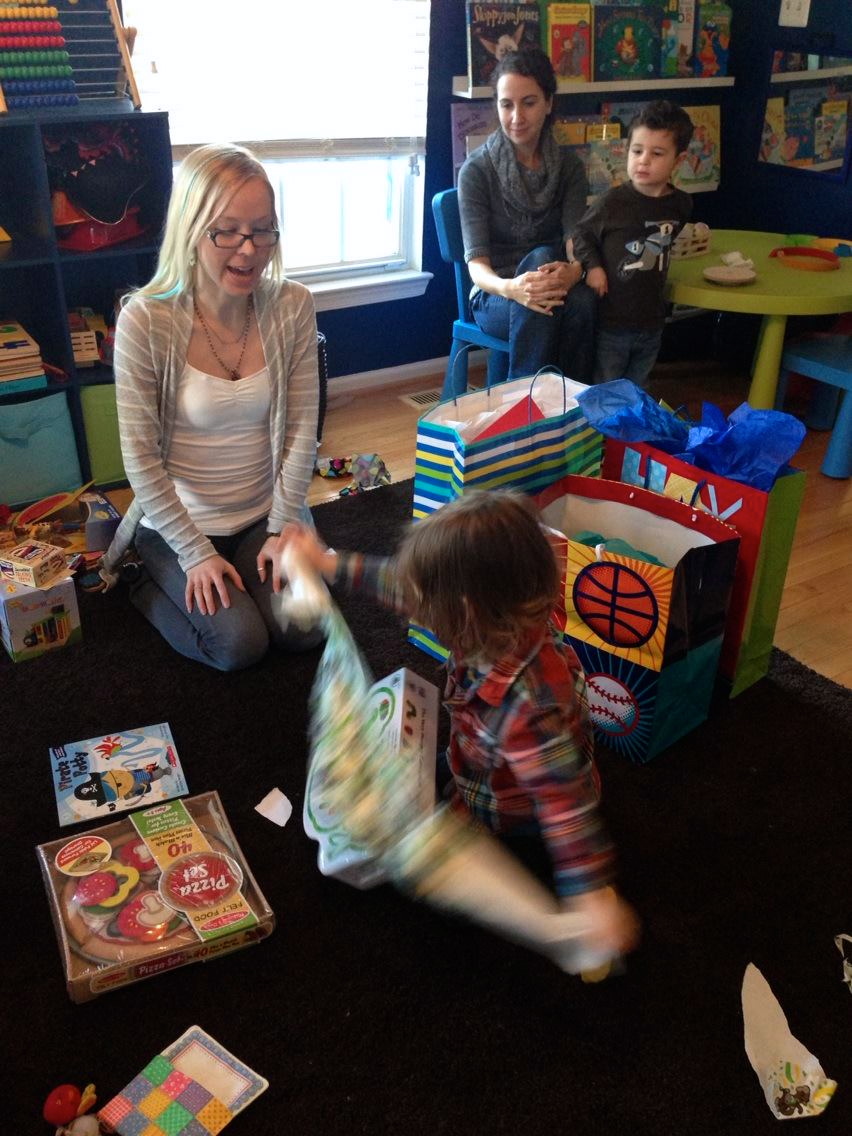 After the party wound down, we went out to eat "brinner" (breakfast for dinner) with friends. Perfect way to end a wonderful day!
Happy birthday, big sweet 3-year-old! I'm looking forward to watching you grow!