Originally, I thought it would be silly to have a first birthday party for Jax. He wouldn't remember it or understand what was going on. First birthday parties are more for the parents…
I knew I wanted to do something with cake and decorations that I could take pictures of. If I was doing that, why not invite people to join us? I'm a little intimidated at the thought of hosting a kids' party, but I love throwing parties. Especially themed ones. Looking at his birthday weekends and seeing there was a midday Caps game followed by the Super Bowl made up my mind. We chose that day and a Caps/hockey theme.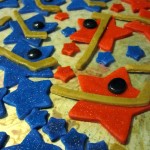 I'm still going simple… No fancy professional cakes. No moon bounces or circus animals. I got streamers and balloons. I'm baking cupcakes with little handmade decorations. We are serving simple snacks.
I did do favor bags. I really remember those as a kid! But what do you put in a 1 year old's favor bag. If you look on party sites at the pre-made bags, they say not for kids under 3. Hrm! There was no way to make them totally baby friendly short of buying baby toys, and we've had a large age range of kids rsvp. So I've just tried my best to have a mix of things and parents will have to decide. Instead of candy, there are packs of all-natural vegan fruit snacks (that Jax taste-tested).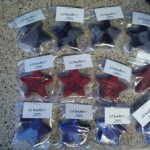 I got rubber duckies dressed in hockey gear and inflatable hockey sticks. The hockey sticks turned out so huge that I'll have to inflate them beforehand. It would take guests too long to do it themselves at the party. That left too little in the bags, so I went on Etsy for handmade inspiration. I came across recycled crayons that were melted into fun shapes. I knew right away I'd do that and handmade coloring pages. After realizing it would cost too much to buy the crayons and molds, I decided to order them. It's good to support handmade crafters! I got a custom order of stars in red, blue and black.
Hopefully the party goes well. I'm not sure how I'm supposed to decide when you do the cake/singing/whatever. But I'll make that part quick so everyone can just enjoy each others' company.