Is Christmas really less than a week away??
This morning was filled with lots of holiday cheer. Jax and I went to Starbucks for our weekly breakfast date, and we brought a tin of Christmas cookies I'd baked the day before. I decorated the gingerbread men to look like little baristas. Jax got lots of hugs and besos from his girlfriend before the sleepycranks set in. He fell asleep on the car ride to the mall.
Yes, I went to the mall 5 days before Christmas. I decided I'd regret it if I didn't get Jax's picture taken with Santa, and Monday morning was probably the best time this week to do it. Jax was asleep when we got there, so I covered his car seat with a blanket and put it in the stroller base. The blanket blocked the cold air and he actually stayed asleep on the walk into the mall.
I'd put him in his button down shirt with the intention of getting him a neck tie to wear in his photo. But the store I planned to get it from was sold out. I headed for Macy's to use the elevator (stupid stroller, I prefer the baby carrier) and checked their baby department. I found a perfect sweater on clearance! It was a little fair isle sweater with skulls in the design to match his shoes. Jax woke up with a smile and I tried it on him then put him in his carrier.
We skipped the upper level and headed back to Santa. There was a 15 minute wait, but Jax was happy and smiling in the carrier. I was talking to the lady behind me in line with an 11 month old and told her I was worried he was going to scream in Santa's lap All weekend he'd lose it if I walked more than 2 ft away from him.
When it was our turn, I handed him to Santa and apologized in advance for any fits. Then I made as big a fool out of myself as possible. And he smiled! The photographer had me stand closer to the camera, then we were done. I went back to Jax and told Santa thank you from him. Santa said "And you know – Santa loves you!" Aww… So sweet! The photographer let me pick between Jax smiling at the camera and a bigger smile looking over at me. I chose the camera one. They were both sweet smiles.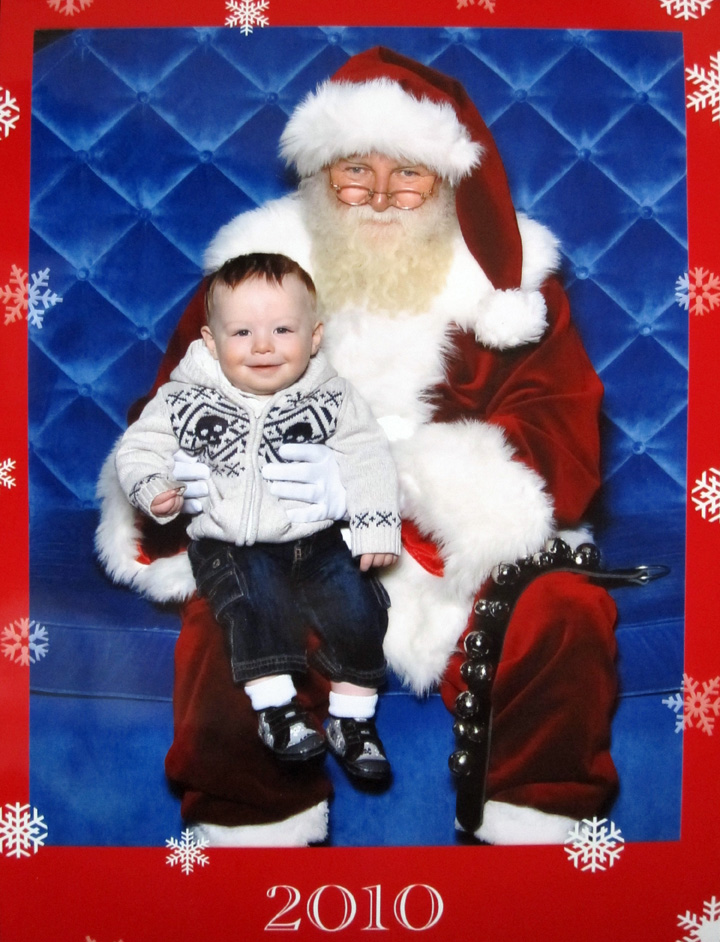 When we were waiting to pay, the boy behind us in line was screaming in Santa's lap. Poor sweetie! I'm sure Santa can look pretty scary!