stephanie is:

melting!

it has been a very long day. we didn't get much rest this weekend – we were just too busy doing stuff. today we woke up after about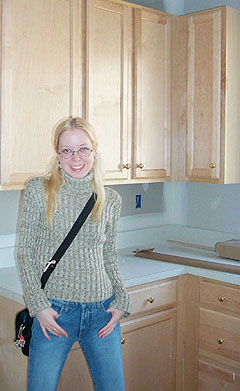 six or seven hours of sleep, and got dressed for the day. we planned to go to the new house and take pictures of the changes, and then drive out to shenandoah national park to see the autumn leaves.
we stopped at dunkin donuts when we left the apartment. the main manager guy was leaving to run and errand right when we got there, leaving one guy all by himself to help us. i think he may have been mentally disabled but i'm not sure. he was very nice and kept offering danny free doughiez. danny accepted the second one he offered to be nice. we asked for 25 ut holes and two bottles of juice. i saw him grabbing enormous handfulls for them and putting them in a box. "i give you 50 – that's from me!" we said thank you since we didn't know what else to say. he rang it up and said it all came to $1.83. well he was very sweet, but perhaps he shouldn't be left alone to work? i have a pound or two of donut holes to bring into work tomorrow now.
after that we headed out to herndon to see what they had done to the house this week. last week they had finished the drywall since we had done an inspection. this week we had a driveway, a garage door, and cabinets! i took a bunch of pictures, then as i was setting my camera on the kitchen counter to open my bag, i realized something was wrong. "this isn't our counter, we ordered the black one…". then i realized the cabinets were wrong too. they had installed the ones i had been drooling over – beautifully light colored wood that would match our dining room table perfect. but they were a 1.5k upgrade and we decided to use that money to make the kitchen floor hardwood. we went and told the office that the counter was wrong. i am guessing when she calls the contractor, he will figure out that all the cabinets in the kitchens and bathrooms are wrong. i wonder what they will do. i would love to keep those, but if our cheaper ones are in a neighbor's house, i bet they'd have to switch. i have a feeling i will get a call on monday from them…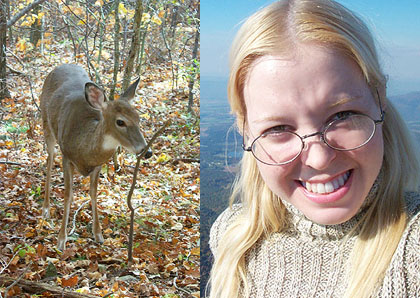 pretty autumn day

after all that we drove 75 miles out into virginia to the shenandoah national park to see the beautious autumn colors. i took about 25 pictures and created a gallery for members of them. here are a couple samples. the weather was perfect. i did have trouble breathing in the altitude and with allergies, but it was better than other times i have hiked.
it is super hot in here cause it has been in the upper 70's and 80's here and the heat is on in the building. pant pant pant! i have a killer headache so that means i need to wrap this up.